Imagine a scenario where you are sitting in front of a laptop, glued to the screen and staring at a blank Word page for so long. Your fingers are placed on the keys, ready to move, but you don't know where to start. A wave of anxiousness taps inside you, and sweat trickles from your forehead as you prepare to work on your gruesome task, i.e. writing your first resume.
We understand that the process is nerve-wracking when someone has limited or next-to-zero experience. But by using effective and beneficial techniques, one can create a captivating and professional CV that leaves a powerful impact on the recruiter. So if you want to spice up your first-ever resume with some killer strategies, join us as we unravel eighteen inspiring strategies.
Table Of Content:
Temper Your Expectations
Use Job Description As The North Star
Examine Samples To Know How To Write A Resume
Keep The Length To A Page Long
Pick The Appropriate Format And Template
Use A Clean And Clear Font
Keep It Simple And Concise
Highlight Metrics Wherever Possible
Prefer Active Language/Power Words
Only Include Sections That Are Required
Choose Proper And Correct Margins
Highlight Your True Personality And Interests With Summary
What To Include In Contact Information?
Describe Your Education In Detail
Mention This Instead Of Work History
Demonstrate Your Soft And Hard Skills
Add Some Useful Optional Sections
Undergo Several Rounds Of Editing And Proofreading Service
18 Strategies To Keep In Mind When Writing Your First Resume
Let's dive in!
1. Temper Your Expectations
Temper your expectations to attract better or more fulfilling outcomes and be happy. By this, we nowhere meant to discourage you, but rather it is better to set realistic expectations and work towards achieving them. When you enter the job market and apply for a specific position, you averagely compete with 250 applicants. Out of which, many candidates would either have more experience or better academic credentials than you.
So you have to conquer while being in between a rock and a hard place. However, the competition is healthy, and you should take it positively. It should encourage you to keep enhancing your skillset and develop better ways to showcase yourself (we'll discuss it more in upcoming strategies).
2. Use Job Description As The North Star
If you want to grab the hiring manager's attention instantly, the key is to use the job description as the North Star. Besides, in today's tech-driven era, most hiring managers use Application Tracking System (ATS). It is software that helps recruiters hire and find the most suitable candidates. One of the significant ways it executes this process is by matching the job description keywords with provided resumes.
So, if you want to stick out and get shortlisted by ATS, extract keywords from post requirements. Make a list of hard and soft skills needed to come off with flying colours while wading through the provided description. Moreover, use the words they have described for their ideal candidate as the foundation of your CV. The more your curriculum vitae aligns with the post description, the greater your chances of landing successfully on the target position.
3. Examine Resume Samples To Know How To Write A Resume
You might not know the specifications required to craft the finest marketing document as an amateur. Besides, every industry has slightly varied styles and requirements related to the CV. So, if you are wondering how to write a resume that aligns with your industry, delve into samples of your field. It will amplify your chances of creating the most impressive curriculum vitae.
Hence, search for examples within your industry on Google and check them out. For instance, below is an example of a professional CV of an amateur graphic designer. Similarly, examine the ones of your discipline.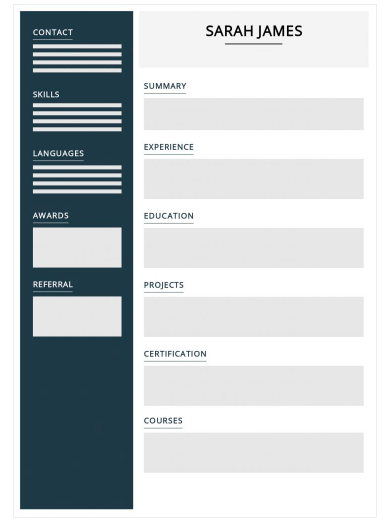 A blue and grey CV of an entry-level graphic designer
4. Keep The Length To A Page Long
Research states that a recruiter generally takes up to ten seconds to review a resume. Increase this typical review span by making your curriculum vitae short and crisp. Avoid including every detail about yourself and adhere to the relevant information. Moreover, if you apply for an entry-level position, remove all the fluff and concise it to one page. It will encourage the hiring manager to quickly focus on the essential data and decide your acceptance or rejection.
5. Pick The Appropriate Format And Template
There are usually three types of formats for a professional CV. Let's take a look at each one of them:
The Reverse-Chronological Format: Requires you to describe your experience and qualifications in reverse-chronological order. It means you have to mention your recent job first and then move on to your previous ones.
Functional Format: Instead of emphasizing your work experience, this format focuses on the achievements and skillset. This type works great for the fresher and career switchers
Combination (Or Hybrid) Format: Focuses on experiences and skillsets and combines the above two types. It benefits the candidate in showcasing their employment history and top skills or achievements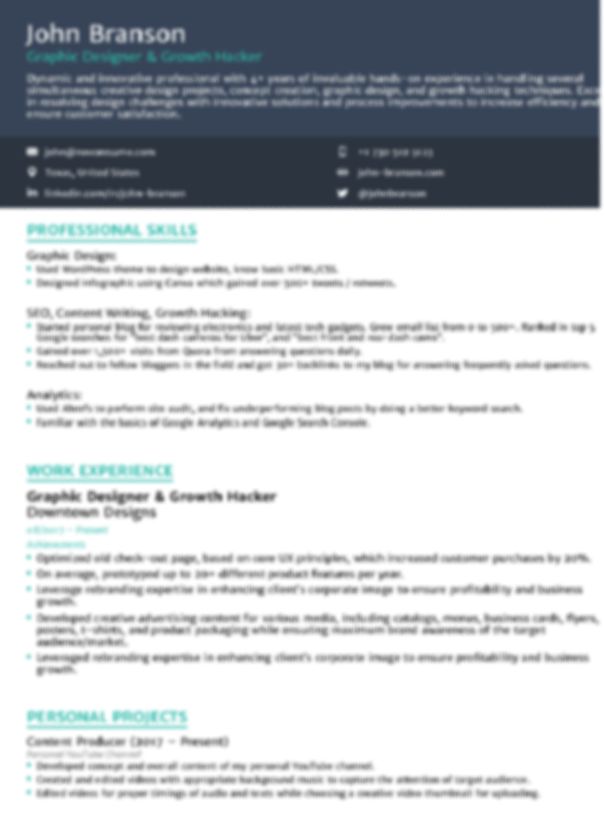 Though the final decision is entirely up to you, we suggest you follow the reverse-chronological format because most recruiters boils down to this format.
6. Use A Clean And Clear Font
After selecting the format, choose a professional font for your resume. Choose the one that is clean and clear as possible to increase the readability factor. It will help the hiring manager find the relevant information. Though there are many options, you can go for Arial or Times New Roman. The correct size of the font is somewhere between twelve to fourteen.
Besides, take note of the white space or extraneous documents, as it can leave a poor impression. We are sure you don't want it. So, adjust the size of the fonts to eliminate any extra white space.
7. Keep It Simple And Concise
Note the content you include in every part of your biodata. Think of it this way: When you scroll through myriad sites to write a paper on a specific topic, you come across several articles. But one or two will instantly catch your attention. Why? It is because the content of those particular websites is simple and reader-friendly.
So, you will more likely take inspiration from such websites. Take a similar approach towards your curriculum vitae if you want it to cut through. Describe every segment while keeping it simple, concise, and impressive.
8. Highlight Metrics Wherever Possible
You will notice a similarity if you glance at the top resumes of highly-experienced individuals. They all have metrics in the working history section to demonstrate their proven expertise. Numbers help you stand out in the eyes of your potential employers. So if your experience has outstanding progress that you can highlight in metrics, go for it.
Here is an example bullet point of a content writer mentioned in the experience section: 'Generated 3k backlinks by writing over 30 blogs on patches, fashion, academic, and tech niches'.
9. Prefer Active Language/Power Words
Another effective strategy to boost readability is to prefer active language without extraneous words. It means using powering words like 'achieved', 'accomplished', 'earned', and 'completed'. Besides, if the pointers within your marketing document are too lengthy, shorten them to deliver a clear message.
For instance, here is a bullet point under the experience section of a content writer: 'I wrote seven e-books that attracted about 7 thousand potential customers for sign up within three months.'
You can reduce the length of the above example in the following manner:
'Wrote seven e-books that attracted 7k email sign-ups within three months.'
10. Only Include Sections That Are Required
There would be some recommended sections, regardless of whether you use a template or create a resume independently. Now, the choice is up to you whether you want to use them. We suggest you go for only the required ones and leave the rest. For instance, you may find the CV objective and summary; there is no need to use both. If you've newly graduated or switched your career, write both i.e. objective and summary.
Besides, as a new graduate, you may not have any visible work history. So, instead of leaving that section empty, replace it with academic achievement and experiences of internships or extracurricular activities. Moreover, you can also combine your sub-headings if you are struggling with filling them individually.
11. Choose Proper And Correct Margins
We have said this once and repeat it a thousand times more – a resume margin matters. Even trivial things like margins can make or break your CV. You might wonder why it matters so much rather than the inner content. Welp, we nowhere claim that the internal data is more vital than the spaces on the sides.
However, it would help if you chose proper and correct margins to make the content as presentable as possible. Hence, the question arises: What is the right size for margins in this case? It is 1 inch, irrespective of whether you go for digital or printed curriculum vitae type.
However, there is a little bit of leeway here. So, if you want to include more content, reduce the margins a bit, like keeping up to half an inch. Hence, various kinds of resumes are required, each needing specified margins. So, go for what works in your case.
12. Highlight Your True Personality And Interests With Summary
An employer wants to see what you can do for them and who you are. They look for a candidate who fits their company's culture and whose personality and attitude align with team members. Hence, use the summary segment to answer these queries positively and highlight your true personality.
If this part is composed engagingly, you offer an employer peak of your striking character and interests. The summary is usually on the top of the CV and lasts two to three sentences. So, use it as an opportunity to wisely showcase your role, skills, education, experience, and accomplishments.
13. What To Include In Contact Information?
The section of contact information is the most vital part of your resume. Why? Because even if your CV makes you stand out among the candidates, it is still useless if the employer can't contact you. Though this part is less likely to have some error, what if you still commit some blunder? Therefore, it is essential to take care of the following pointers:
Vital Guidelines Related To Contact Information:
Write the exact name of yours that you have already used in your social media profiles
Mention your professional title under the name, and it should mirror the position you are applying for
If you have any professional acronyms under your belt, feel free to highlight them in the contact information
Regarding your location, mentioning the city and country is more than enough. Remember – the recruiter will not step in for a lunch date or coffee session. So there is no requirement to write down your exact address
Plus, if you are already moving to another city or country and don't require any relocation package. So, describe when and where you are relocating instead of mentioning your current location. (Relocation to Toronto in September 2023)
Include your phone number along with the regional code
Instead of listing down the email address of your current job, include a brand-new and professional one
Other optional information contains links to your LinkedIn and other professional profiles
14. Describe Your Education In Detail
If you are creating your resume for the first time, you may not have such experience. In this scenario, the section on your academic qualifications is more important than your work history. Therefore, start describing your education by highlighting your highest degree in detail. Below is the correct format to mention your education:
The name of your program, e.g., BA in Zoology
The name of your institute, e.g., University of Toronto
Attended years, e.g., 5/2018 – 7/2022
GPA (only describe if it is high enough to impress the employer)
Exchange program (if applicable)
15. Mention This Instead Of Work History
While working on your first-ever CV, you might have a blank slate of experience. Instead of leaving that section empty, mention your history of internships, extracurricular activities, and projects. If you are applying for an entry-level position as a fresh graduate, it is understandable not to have any superior experience.
But your active participation in the internship and extracurricular activities will help you be out of the ordinary. An essential tip here is to demonstrate your accomplishments instead of responsibilities to catch the eye of HR. Below is a sample of how you can describe your internships or extracurricular activities:

16. Demonstrate Your Soft And Hard Skills
You should demonstrate two kinds of skills in your CV: soft and hard.
Soft Skills:
Soft skills, also known as power or core skills, are a mixture of social, interpersonal, character traits and professional attitudes. It applies to all professions. Your soft skills can help you stand out among the candidates. Therefore it is essential to mention them.
Some of the top soft skills include:
Problem-Solving
Teamwork
Emotional Intelligence
Time Management
Leadership
Project Management
Adaptability
Creativity
Communication Skills
Decision-Making Power
Hard Skills:
Hard skills refer to the knowledge acquired through learning about specific tools and industries. They are quantifiable and applicable to particular jobs rather than a broader perspective. You may have learnt hard skills through formal education or courses. Hence, list the relevant ones for the position you are applying for.
Below are some examples of hard skills:
Adobe Illustrator
Content Creation
Analytical Skills
Data Analysis
SEO
Technical Skills
Tailor Your Skillset According To The Job Description
If you have plenty of skills, you might muddle over which ones to mention in your CV. So, the key is to examine the description of a job ad. The HR must have named the abilities they require in their ideal employee for a particular position. Note them and list them in your curriculum vitae if you have them.
17. Add Some Useful Optional Sections
If you still have enough space left out in the CV after considering all the above sections, take advantage of it. You can include other valuable sub-headings to fill up the empty area. Here are the ideas for additional segments:
Hobbies: It refers to an activity or pastime carried out for pleasure and relaxation during leisure time. However, the key here is to name the relevant ones in your field. It is a great way to represent your passion for your work and industry
Languages: As leading companies are taking their business to the international level; they look for bilingual employees. So, if you can speak more than one language, include a section highlighting it. Also, mention whether you are a beginner, intermediate, advanced, fluent, or native speaker. It is a great technique to show your mastery of languages
18. Undergo Several Rounds Of Editing And Proofreading Service
Once you have completed crafting your resume, you can't send it directly to the employers. More or less, it will have grammar, spelling, omissions, and et cetera flaws. Thus, consider undergoing several rounds of editing and proofreading to achieve perfection. However, we suggest you refresh yourself by napping or indulging in entertaining activities.
Dedicate an hour session for proofreading and editing. Begin the process by running your content with grammar and spell-checking software but don't merely depend on it. Such programs have chances to either neglect mistakes or identify the correct sentence as wrong. Hence, conduct the process or take the assistance of our professionals for reliable proofreading services. Our experts upgrade the professionalism and attractiveness of clients' CVs to another level of perfection.
Besides, if you decide to polish your biodata by yourself, here is a list of fruitful proofreading tactics:
Here Are Fruitful Proofreading And Editing Tactics:
Instead of skimming, carefully delve into word by word to leave no room for errors. Hence, read slowly yet loudly so that you can hear what you are speaking. Your attentive listening will help you identify the flaws quickly. If you can't or don't like wading through loudly, take the help of Google Assistant to read it to you
Direct all your attention to one section at a time rather than proofreading in one go
Reading backward to detect any misspelling is an effective way to point out wrong-spelled words. So, give this tactic a shot
Sometimes smaller words get interchanged, like 'it' instead of 'is'. So pay full attention to them to ensure they're correct
Often individuals muddle over between there, they're, and their or your and you're. Hence, have a straightforward take on the contractions and possessive tense before starting to ensure you don't confuse between them
Key Takeaways
You might become a bundle of nerves while writing your first-ever resume. But once you know the essential things before starting the process, the creation becomes a breeze. Hopefully, after reading this post, you must have learned the ropes regarding making a professional and catchy curriculum vitae.
Let's quickly take a look at the key takeaways to ensure you don't miss out on anything:
Temper your expectations on the journey to find a suitable position
Use job ads as a north star to tailor your CV
Examine resume samples of your industry
Keep the writing short and sweet
Pick appropriate template
Choose neat and clean font
Keep the length to a page long
Highlight metrics and use power words
Choose correct margins
Include only the required sections
Highlight your personality and interests in the summary
Add correct contact information
Describe education in detail
List down your internships and relevant extracurricular activities in the absence of work history
Make a list of your soft and hard skills
Use empty enough space to add applicable optional sections
Lastly, undergo several rounds of editing and proofreading